"SIMPLY AND UTERLY OBSESSED WITH THESE. EVERYTHING ABOUT THIS IS SPECIAL"

Emily F.
"IF YOUR BOUGIE LIKE ME, THIS IS THE ONLY WAY YOU SMOKE. THESE CONES ARE BEAUTIFUL AND NATURAL"

ARNOLD M.
"SIMPLY PHENOMENAL. RE-ORDRED AS SOON AS I HAD MY FIRST PUFF"

EDWARD B.
"THIS IS NOW MY NEW NORMAL. THE EARTH SMELL AND FLAVOUR IS CRAZY GOOD."

DANIEL S.
"THE SLOW EVEN BURN GIVES FOR A NICE SLOW SESSION THAT SERIOUSLY ENHANCES THE EXPERIENCE" 

Martha K.
" THEY'RE BEAUTIFUL, SMOOTH AND COME EMPTY FOR YOU TO CHOOSE WHAT YOU'D LIKE TO PUT INSIDE. I'M HOOKED "

SAMANTHA T.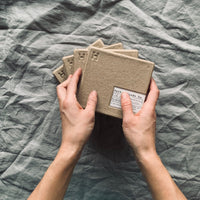 OUR HGC SIGNATURE BOX
With now over 150,000 HGC Signature Boxes sold and shipped world wide, our empty Pre-Rolled natural cones have gained prestige for their phenomenal burning/smoking characteristics.
We welcome you to give them a try and see for yourself.
Shop Now
Slow | Smooth | Natural 

THIS IS WHAT ALL NATURAL LOOKS LIKE

HERBAL GOODS CO.
At Herbal Goods Co., our intention is to elevate your smoking experience naturally, sustainably and responsibly.
It is our hope that our natural cones will offer you a moment to slow down and experience more from your session.
To know each natural cone is carefully picked, rolled and hand tied with care and attention to detail.

Thanks for visiting & supporting us ✌🏽